In this growing world of fashion, we are always looking for something that can bring authenticity with a touch of boldness to the table. And what better than a pair of white gold earrings to add a little spark of sunshine to your look?
If you follow the latest fashion trends closely, you must be aware of the most deserved hype of white gold. Styling white gold is the easiest task that results in gorgeous outcomes.
However, before adding white gold to your beautiful collection, it is important to know what it's actually made of. White gold is made with a marvellous blend of pure gold and white metals like silver, nickel, and palladium. Further, it is usually coated with rhodium to give stability and strength to your jewellery.
To look after the desires of your inner fashionista, Mia by Tanishq works with a group of talented craftsmen and brings only the best to your service. Find a brilliant collection of white gold earrings only at Mia by Tanishq.
1. Tropical White Gold Hoop Earrings
Crafted in the shape of a tropical leaf, this pair of hoop earrings are studded with diamonds and finished with white gold. Don't they remind you of the peaceful times you have spent on a beach? Pair these chic white gold earrings with a long white dress and a fancy pendant to achieve a soft yet bold look.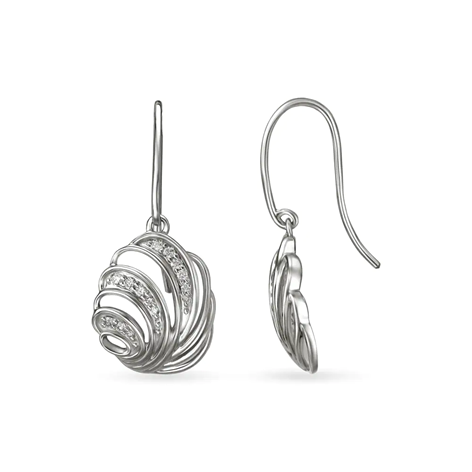 2. Gorgeous Pair of White Gold Drop Earrings
The elegance of white gold and the glamour of ever-trending diamonds came together to create this drop-dead gorgeous pair of white gold earrings. Pair these with an evening block gown or that radiant designer saree to add a new twist to your look. The eye-catching glamour of these white gold earrings can assure you of the aesthetics of a queen-like demeanour.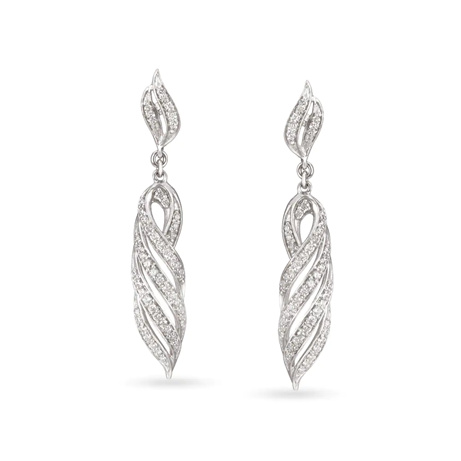 3. Yellow-White Golden Oyster Shell Shaped Earrings
With one half in yellow gold and the other half white, you can have the best of both worlds in a single pair of earrings. Its oyster shell shape is a symbol of good luck and prosperity. Pair this ridiculously amazing pair with a flattering jumpsuit or a chiffon saree and get ready to witness the heads turn.
4. White Gold Earrings studded with Diamonds
Seize the day with a classy pair of diamond-studded white gold earrings. Carrying the brightness of sparkling stars, these studs will remind you of the one-of-a-kind personality that you possess. They are the ultimate pieces for those dressy evenings where you want to stand out in a crowd.
5. White Gold Diamond Stud Earrings
These white gold stud earrings embedded with diamonds possess the magic to go well with your everyday work look as well as that brunch with your girlfriends. Put on this simple yet irresistible pair of white gold earrings with your formal blazer or a beautiful ethnic Kurti, and let it flaunt its magic.
Wondering Where You Can Find These Eye-Catching White Gold Earrings?
White gold is a trendy yet timeless metal, making it a popular choice. It's interesting to know that due to white gold's higher strength and stability, it becomes easier to make authentic designs with them, which is somewhat difficult with yellow gold.
During the regular tussles of our lives, we often forget to look after our inner diva. But don't worry, Mia by Tanishq has brought an amazing collection of white gold earrings to oomph up your outfits.
The specially curated designs at Mia by Tanishq are going to become your best friends because of their durability, comfort, and authenticity. Go easy-breezy and look fantastic with the overwhelming collection at Mia by Tanishq.