The original purpose of Trackwrestling was to help tournament managers seed wrestling events, but it has since grown into so much more. In addition to helping tournament managers run successful wrestling events, the site allows fans not in attendance to view real-time results as each new bout sheet is entered online.
Whether you want an open or predefined tournament, freestyle or Greco, line bracketing or vertical pairing, youth to collegiate, Trackwrestling can meet your needs.
Trackwrestling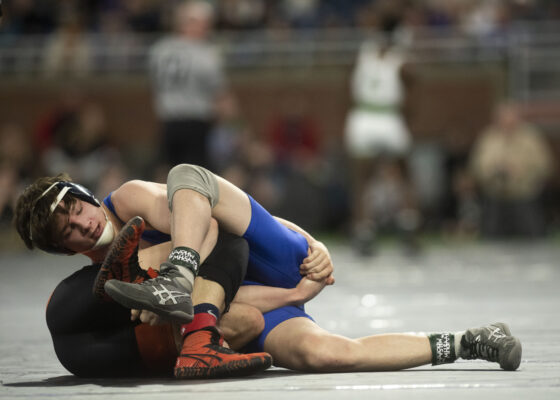 Trackwrestling begins with customizing features that allow managers to create unique brackets and scoring systems. As participating teams enter their line-ups online, the process continues. As tournament day approaches, Trackwrestling generates bout sheets, brackets, and much more to ease the workload of tournament staff. A number of additional features, such as automated emailing of results to media, can also be accessed by tournament managers after the tournament has concluded.
Among Trackwrestling's other features is the ability to post dual meet results online and select 'fantasy wrestling teams' for upcoming matches. With the support of USA Wrestling, the WIAA, and the Wisconsin Wrestling Coaches Association, Trackwrestling hopes to expand beyond Wisconsin and support wrestling nationally. 
Online Courses Offered By Trackwrestling
At Trackwrestling University, individuals learn how to use our wrestling software. Trackwrestling offers a variety of wrestling formats and event management services. As a result of completing a course, you will become certified in the skills associated with it. Event directors can view your certifications on their consultant's page.
1. Custom Bracket Designs: This course demonstrates how important it is to be able to modify brackets after they have been built in order to run a successful event.
2. Dual Tournaments 101: You will learn how to run a dual meet tournament using one chart in this course.
3. Dual Tournaments 102: Dual tournaments that are larger or more complex may require more than one chart. They will demonstrate how to run this type of event in this course.
4. Going Electronic – Dual Tournament: In this course, you will learn how to run electronic bouts for a dual tournament.
5. Going Electronic – Individual Tournament: In this course, you will learn how to run an individual tournament using electronic bouts.
6. Local Servers 101: The purpose of this course is to demonstrate the basics of setting up and running An event hosted on a local server.
7. Making Bracket Changes: This course demonstrates how to make changes to brackets after they have been built, which is a crucial skill in running a successful event.
8. Mat Assignment Display: Mat assignment displays are powerful tools for displaying upcoming matches, team scores, past results, and more. The course demonstrates how to use the display for individual and dual tournaments.
9. Networking 101: The course covers the basic networking skills necessary to run an event on a local server. 
10. Open Tournaments 101: Using Madison/Block bracketing and assigning brackets to mats, this course describes how to run a basic open format tournament, commonly used for youth, middle school, and JV events.
11. Open Tournaments 102: The purpose of this course is to demonstrate how to run an open-format tournament using predefined weight classes and a call-to-mat system.
Trackwrestling Membership
It is the goal of Trackwrestling to improve the sport of wrestling for everyone involved. Trackwrestling has created a system that tracks results throughout all events. You will be linked to all tournaments you or your athletes compete in once you create a profile for yourself, your athlete, or your club. Based on their performances, wrestlers and distinguished clubs compete in the Trackwrestling ranking system. Members of Trackwrestling gain access to an easy-to-use resource for athletes, fans, and coaches.
Trackwrestling Marketing
You can enhance awareness of your products and services through trackwrestling. At all levels across the country, this platform allows you to market directly to the audiences that matter to you. Their high traffic volume ensures that your ads will be seen repeatedly. Your brand will be exposed to the entire wrestling community by advertising on Trackwrestling.
Trackwrestling Event Management
It is possible to manage any type of tournament with our event management system, from a traditional paper bout sheet tournament to an electronic championship event with score clocks, jumbotrons, ribbon boards, video feeds, and more. People who want to follow along can follow the event live online through their system.
Trackwrestling Trackcast
Trackcast is a game-changing video streaming, recording, and replay solution completely integrated into Trackwrestling. By incorporating video overlays with current match and tournament information, users can create a professional-looking stream that attracts viewers. It provides organizations, teams, and event directors with the tools they need to broadcast their events and recognize the revenue streams associated with them.
myTRACK
Trackwrestling provides a customized user experience for every type of user. Wrestlers, fans, coaches, and tournament administrators can easily search and manage Trackwrestling's different services through myTRACK. Based on your recent activity and state, a myTRACK account gives you a personalized browsing experience. Using our "Recent" feature, you can easily access your recently viewed profiles, tournaments, rankings, and more. 
How Old Should You Be When You Start Wrestling?
In middle school, age and maturity do not matter, but at the club level, kids as young as 4 or 5 can participate in wrestling. A child's maturity cannot be easily determined when he or she is ready to participate in a new sport.
Is Wrestling The Hardest Sport?
Wrestling requires a combination of physical power, speed, technical skill, and mental toughness in order to succeed at the highest levels.
Conclusion
It's easy to search for and post upcoming camps and training opportunities on Trackwrestling Training Opportunities. Our camp search feature allows you to narrow your results by date, age level, state, and more to find the right camp.