The Podercard is a digital bank account designed specifically for Hispanics. There are no hidden fees or minimum deposit requirements. You can switch between Spanish and English on the bilingual interface of the mobile app. Joint accounts aren't supported by Podercard.
By providing underserved and unbanked populations with a free digital account, PoderCard closes the banking gap. No monthly fees or minimum deposit requirements apply, but you can't open a joint account with a friend or family member. And you'll pay fees if you use an out-of-network ATM, need a new debit card or deposit cash at a retail location.
How Do I Open A PoderCard Account?
Follow these steps to open a PoderCard account online:
Go to the provider's site and follow the steps to apply.

Download the official PoderCard app from the Apple Store or Google Play Store.

Open the app, select whether you wish to view it in Spanish or English and click Next.

Create your username and password and click Setup App Login.

Create and confirm your four-digit mobile unlock code.

Enter your phone number and click Next.

Enter the code that was sent to your phone and click Confirm Mobile Number.

Type in your Social Security number, ITIN or Matricula Consular photo ID.

Follow the prompts to verify your identity and request your debit card.
What Is The Eligibility For Opening A

PoderCard Account?
PoderCard accounts are available to anyone who meets the following requirements:
You must be at least 18 years old A valid Social Security number, Individual Taxpayer Identification Number (ITIN), or Matricula Consular photo identification is required
Required information
Full name

Address

Date of birth

Phone number

Social Security number, ITIN or Matricula Consular photo ID

Driver's license or other identifying documents
Benefits Of The PoderCard
Green Dot is a partner in the development of the PoderCard. The account is FDIC-insured, offers mobile banking and online bill pay, and includes these features:

Fees are minimal. PoderCard doesn't charge monthly maintenance fees, minimum balance fees, or overdraft fees.

Direct deposit as soon as possible. You can receive direct deposit paychecks and government benefits up to two days earlier than you would with a standard bank account.

A large network of ATMs. Withdraw cash for free at over 46,000 AllPoint ATMs nationwide.

Financial wellness library. Stay in control of your finances with a free library of personal finance resources.
Things To Look Out For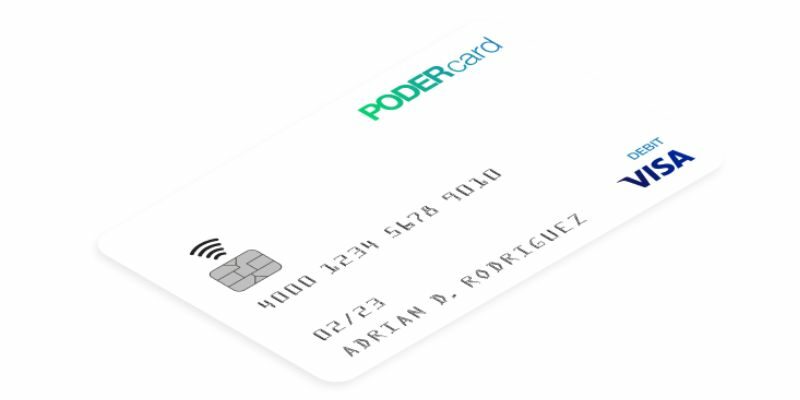 While the PoderCard account has its benefits, it has potential drawbacks:
Joint accounts are not allowed. Individual accounts are the only ones offered by PoderCard.

Regulations regarding ATMs. ATMs allow you to withdraw no more than $500 per day or $3,000 per month. If you use an out-of-network ATM, you'll be charged $3.

Fees for other services. A replacement debit card will cost you $5, foreign transactions will cost you 3%, and cash withdrawals will cost you $2.50.

Opening a new account. For those who prefer to keep their banking under one roof, PoderCard may not be a good option since it has no other accounts.

You should keep looking if you were hoping to open a checking and savings account at the same bank. As always compare your options when considering a digital bank account.
Frequently Asked Questions
Que 1: How Much Is The Minimum Deposit for Podercard?
Ans: The next step is to enter the amount of money you want to deposit into your account. There is a $100 minimum deposit per barcode.
Que 2: What Is The Processing Time For Podercard?
Ans: Approximately 7-10 business days. Once you have successfully completed your application for your PODERcard account you should receive your debit card in the mail within approximately 7-10 business days.
Que 3: Podercard Is Free Money? 
Ans: There are no monthly fees, and there is no minimum balance requirement. Get daily balance and transaction alerts and 24/7 support. A digital account with no monthly fee, access to 55,000+ free Allpoint ATMs, and no minimum balance requirement.
Also Read: Why One Should Invest in Bank FDs in New Year 2023?
Conclusion
Podercard can be beneficial for you in the future. It has multiple benefits such as direct deposit, transfer from another bank, and cash deposits at a green dot location. Also, while withdrawing at an ATM. If you have any queries, let us know in the comment section. Happy reading!